New years eve seemed like a tense time for the President and First Lady as they hosted a party at Mar-a-Lago resort in Palm Beach, Florida. They were joined by 11 year old Baron  as they entered  the Grand Ballroom making a  a red-carpet entrance. The couple appeared  uncomfortable and cold towards one another during their arrival on the red carpet. No one smiled. Donald, Barron and Melania were serious and stone faced
Their body language was disturbing  as  Melania trailed  behind  Donald and Barron and looked distant.  She appeared tense and stiff as though she didn't want to be there.
There was too much physical  distance between the couple. This type of body language and facial language and  lack of interaction seemed inappropriate for the holiday occasion. It's disturbing, especially since it's the holidays. It's one thing for a state dinner, but we're talking about a fun, New Year's Eve party where you are supposed to be more loving.
While you can  write off their interactions during more diplomatic, business-centered  appearances,  you can't  pretend that their seemingly cold interaction in the middle of a holiday celebration doesn't exist. It speaks volumes as to the status of their relationship.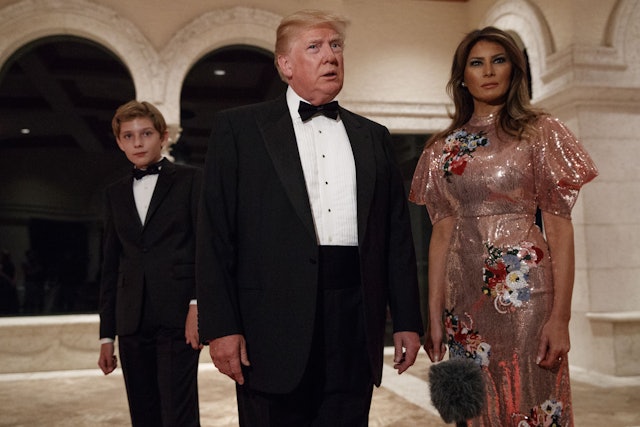 While Trump spoke of all of his 2017 accomplishments, Melania seemed to ignore what he said and didn't even  nod her head in agreement or smile. She was dead serious.
There is clearly something bothering Melania and it leaks out in her facial language and in her body language. The body doesn't lie and neither   does one's face. So no matter how hard she tries to keep up a warm front,  she is not succeeding in this regard.   Young Barron seemed more in synch with his father as they walked together than Melania who stood behind both of them as they entered the party.
All this said, there are any number of reasons as to why Melania Trump's body language seemed so stilted — including something as simple as a discomfort with the massive spotlight now on her and her family.  Unfortunately, however, that's just part of the family's new job, and those possible explanations are not going to stop the public from examining their every move.